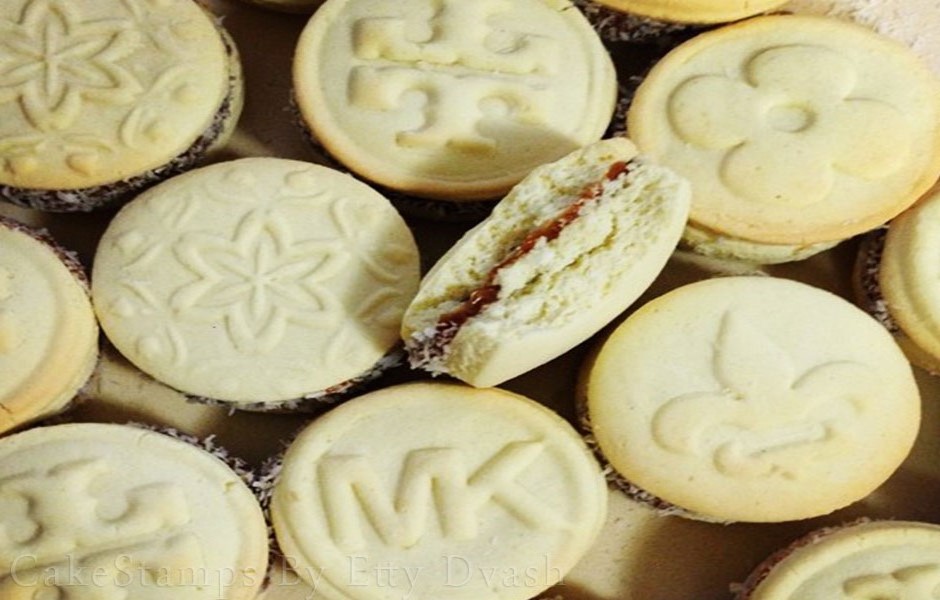 Hi! I've decided to share with you my pleasantly crisp recipe for Alfajores…
I've made them countless times already, and they always come out crunchy and delicious.
Now, with my stamps you can make any kind of branded Alfajores for your event, business or just to surprise a loved one.
I promise your family, friends and clients will be impressed!
Good luck
Etty – cakestamp
Amazing Branded Alfajores
Ingredients:
200grams butter
1 cup sugar
3 eggs
1 TBS vanilla sugar
1 tsp baking powder
500grams cornflour
1 cup flour
Filling:
Nutella chocolate spread/butterscotch
Coating:
Ground coconut flakes
Instructions:
1. Whip butter and sugar together in mixer until blended. Add eggs until all the ingredients unify into one
batter.
2. Sift flour and cornflour and then add the vanilla sugar and baking powder to the dry mixture.
3. Add one 1/3 of the dry mixture into the wet batter at a time, until all the ingredients are well-blended
together.
4. Roll the batter into a soft ball.
5. Dust your surface with flower and roll out half of the dough till it is 0.5cm thick.
6. Cut out circles with a cookie cutter and then brand each circle with one of CAKESTAMP's amazing stamps.
7. Gently lift the cookie and place on a tray lined with parchment paper and bake at 170 degrees Celcius for
exactly 10 minutes.
8. Remove from the oven and set to cool. The dough will harden as the cookies cool down.
9. Fill each two cookies with your preferred filling, roll the cookie in coconut flakes and serve.
10. Enjoy the amazing taste as well as the compliments!